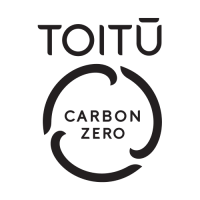 Very proud to be able to call ourselves a Toitū carbonzero certified organisation!
Toitū carbonzero certification is awarded to organisations, products or services, building operations and farms that are measuring, actively working to reduce and annually offset their carbon footprint.
While we first achieved carbon-neutral status back in 2007, this year we became a member of Enviro-Mark Solutions' Toitū carbonzero programme, the world's first internationally accredited greenhouse gas (GHG) certification scheme under ISO 14065.
As well as measuring, verifying and offsetting carbon emissions, we now have an emissions management and reduction plant (EMRP) and a reduction target of 15% by 2020.
We do everything we can to reduce our carbon footprint but some emissions are unavoidable, so we offset these by investing in carbon credits from Pigeon Bush in Wairarapa and Hinewai Reserve in Christchurch, which are permanent native forest regeneration projects here in New Zealand. Forests act as carbon sinks, absorbing carbon dioxide from the atmosphere. They also allow native biodiversity to flourish, reduce soil erosion and improve catchment water quality.
We also purchases credits from a wind farm project in India, where our glass bottles and jars are made. Glass production is energy-intensive, and the electricity generated by this project displaces fossil fuel-generated electricity from the national grid, helping reduce emissions
Maximum effect on your skin, minimum effect of our environment™ – it's our mission and our mantra.
Learn more about Toitū Envirocare
here
.