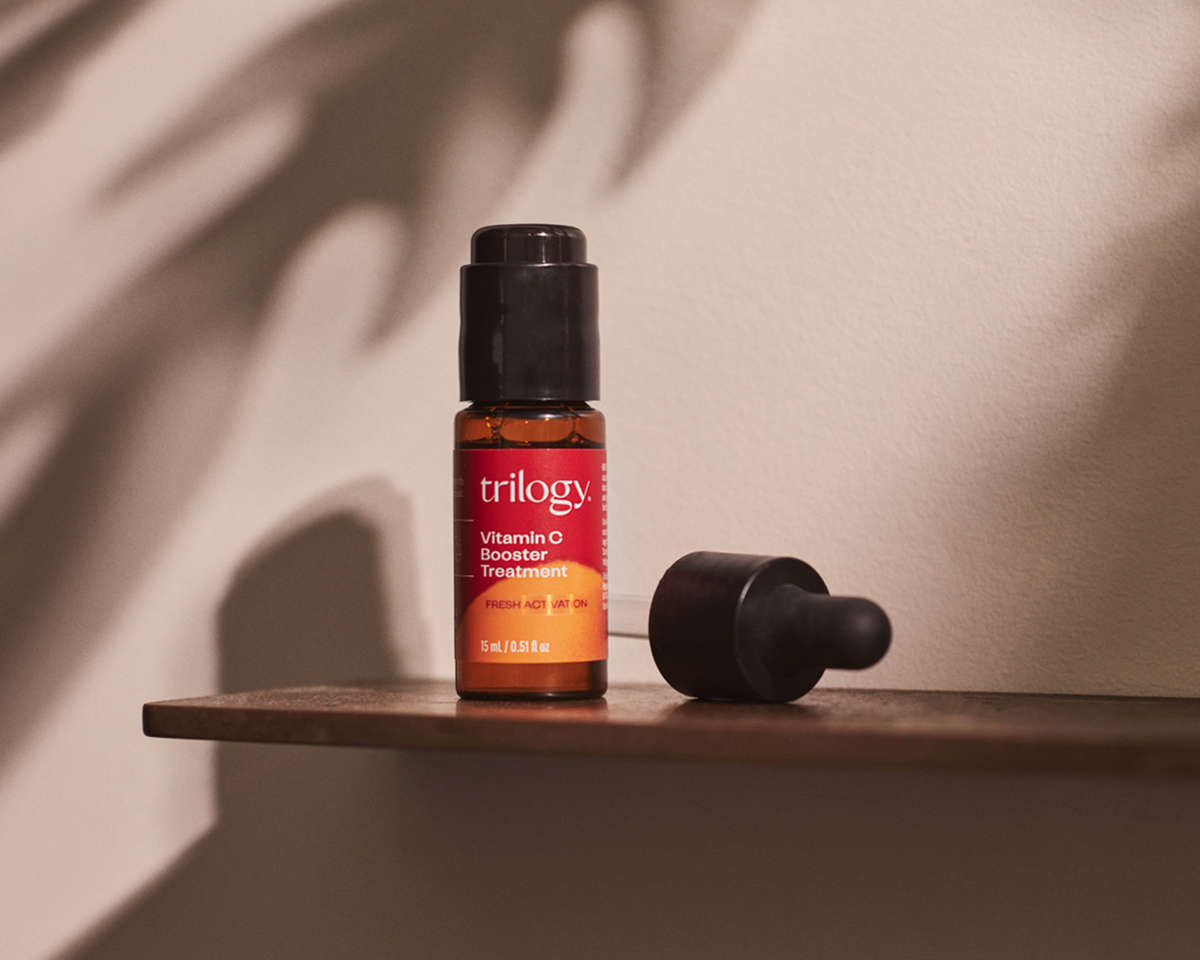 It's no secret that we're huge fans of vitamin C over here at Trilogy; we have a whole range dedicated to it, after all. One product in particular is a team favourite at Trilogy HQ: our most potent vitamin C product (and, we think, the best vitamin C serum): The Vitamin C Booster Treatment.


We could wax lyrical all day about why we love it but first, it might be helpful to get into the nitty gritty of why vitamin C is so good for our skin, so it makes sense why we want it in its most potent form.
What does vitamin C do for your skin?
 In short, a lot. It's an antioxidant, it's anti-inflammatory, it acts as a natural sunscreen to provide some protection against UV rays, it evens our skin tone (goodbye hyperpigmentation) and it encourages the production of collagen which minimises wrinkles and fine lines. Because of all of this, it improves both the appearance and health of our skin, giving us that much chased-after glow.
Is all vitamin C created equal?
The vitamin C in the Booster Treatment is L-ascorbic acid which is the most effective form of vitamin C in skincare. It is also, however, highly unstable meaning it needs perfect conditions in order to maintain its level of effectiveness. That's why the Booster is activated by you, at home and designed to be used for two weeks. The powder tablet is dry before it's released and mixed with the hyaluronic acid which makes it more stable and means it's up to you when you want to use it.
Meet the Booster
Designed to be our most powerful vitamin C product yet, the booster is 6% L-ascorbic acid in tablet form that, when clicked-to-release, drops into nourishing and hydrating hyaluronic acid. The tablet and liquid are kept separate because the vitamin C is at its most powerful (and effective) immediately after being mixed. That's why we recommend using it within two weeks, before that potency starts to lessen.


Because light and air can destabilise vitamin C, the tablet is stored in the dark lid so, once you've released the capsule, shake to combine, then switch to the pipette lid.


In addition to vitamin C and hyaluronic acid, the Booster also has antioxidant-rich daisy extract which works to reduces the appearance of age spots, and awakening mandarin oil to delight the senses and leave your skin smelling fresh.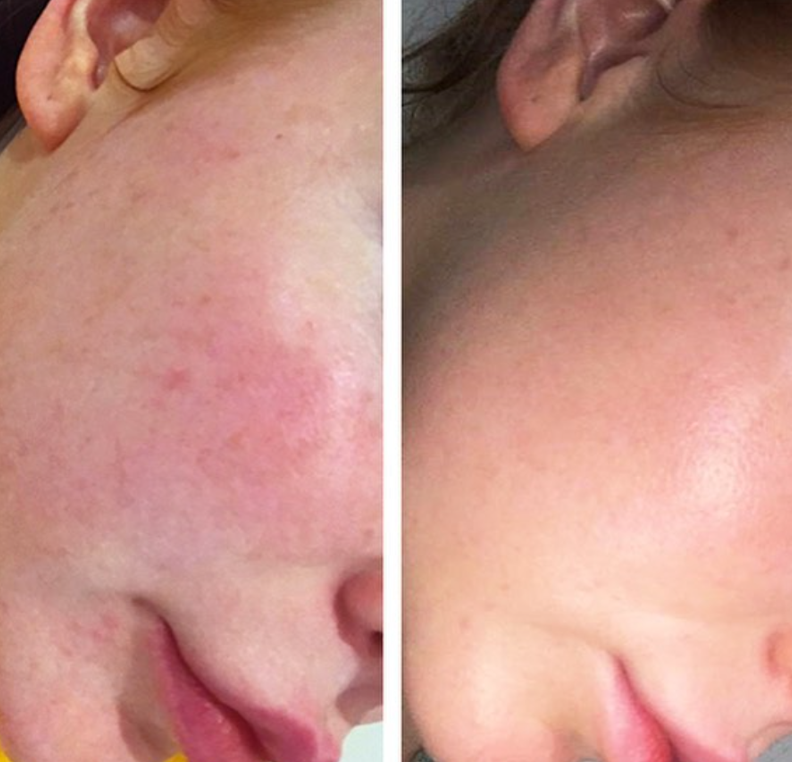 You'll believe it when you see it
We invited 90 people to use the Vitamin C Booster Treatment twice daily. Of those people, 71% saw an improvement in overall skin radiance, 80% saw an improvement in skin tone and 85% saw an improvement in tired, dull skin*.
How to activate the Booster?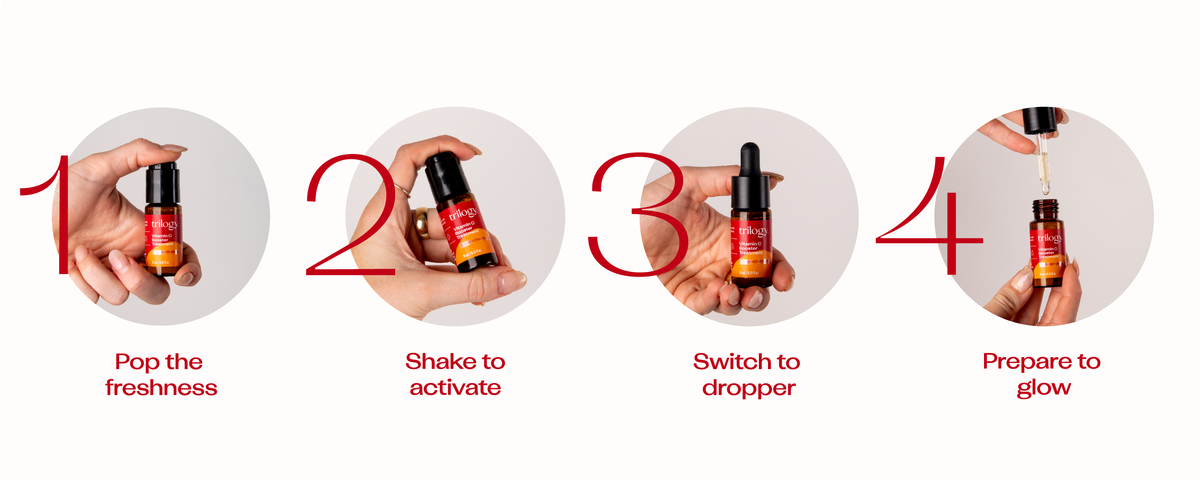 Frequently asked questions
Can Vitamin C Booster Treatment be used for longer than two weeks?
Once activated, each batch of Vitamin C Booster Treatment can be used for longer than two weeks, but this is the recommended window for optimal ingredient freshness and brightening potency, as the benefits of ascorbic acid will start diminishing after 21 days. To maintain your glow, it is perfectly safe to continue use back-to-back with another freshly activated Vitamin C Booster Treatment.
How to tell when the Vitamin C Booster Treatment has oxidised
When fresh, ascorbic acid is white and releases into the base solution to create a clear, naturally coloured base. As the mixture oxidises, the liquid will slowly begin to turn yellow and eventually become a dark orange.
Is Vitamin C Booster Treatment suited for sensitive skin?
All skin types should enjoy being able to use Vitamin C Booster Treatment, as the 6% ascorbic acid content was chosen after research and trial as a concentration that is both effective at increasing the skin's glow while also being suitable for all skin types without causing irritation. However, like all new skincare products, we recommend that you patch test first or consult your medical practitioner before use.
Does the Vitamin C Booster Treatment dry out skin?
Nope! Hyaluronic acid (the liquid component of the Booster) is known for being super hydrating and complements vitamin C really well. Together they hydrate, nourish, and protect skin.
Can I use retinol and vitamin C at the same time?
No. The two different ingredients have different pH levels so neither can be effective when used together. Therefore, we recommend avoiding retinol while using the booster, or using retinol at night and the Booster in the morning, or option for nature's retinol alternative – bakuchiol.
Does vitamin C make my skin sensitive to sun?
No, quite the opposite! When applied with an SPF, vitamin C supports sunscreen in protecting it from harmful UV rays. it helps protect your skin when applied with an SPF. Vitamin C also helps repair sun damage (like oxidative stress and hyperpigmentation) so when we use it in our skincare routine, we're protecting and mending all at once.

*Averaged self-assessment results from 30 women using Trilogy Vitamin C Booster Treatment & Trilogy Vitamin C Moisturising Lotion over 2 weeks. Used twice daily.